was good.
Cooper was spoiled. The morning of Christmas I was feeding Cooper in his room and just looking down at him in the soft glow of light that comes through his window. I just stared. I watched him. I talked to him about Jesus. I thanked God for His Son and I thanked him for mine. Then we went out and played.
We let Daddy sleep. This is one of the few years that Cooper doesn't understand opening gifts so there was no pressure to wake up Daddy. Cooper and I opened the last box in the kid friendly nativity scene that I bought for him from house of James. It is called "What God wants for Christmas". It is actually really neat. Can't tell you what is in box #7 cause it would ruin the surprise.
Then the "fun" started. He wasn't really interested in the gifts or opening them. Doesn't get that part yet. Then after lunch we went to Great Grandma's house and had some turkey and stuffing and cranberry sauce. I love that part of Christmas. I must say it is my favorite part. Sitting down to a nice turkey meal. We went to my moms and I was so disappointed. She got this turkey loaf thing from M&M Meat's. Everyone liked it. It wasn't bad but to me it wasn't tradition. Didn't taste like turkey to me, it had stuffing rolled in the middle. The cranberry sauce was orange flavored. There was nothing there for me to really drink besides water. I don't drink wine and pop. She had no milk. I was so bummed. It was like it was all gone now. No more tradition. When I get a house one day I am going to do the tradition. Big turkey dinner with gravy, mashed potatoes (her's were dill flavored or something), veggies and normal cranberry sauce. I know I sound pitiful and pathetic but still. I wanted the turkey! I looked forward to that!!
Cooper got spoiled as usual. Here he is. Mom, open it this way! Here I will help you!!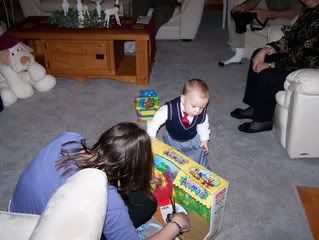 Earlier in the day at Great Grandmas he just totally zonked out...(the mark on his cheek is from falling into the handle on the computer chair. I am sure there are many more injuries to come as he is trying to walk)
Daddy had been home all weekend and went back to work on Wednesday. We are missing him!! Cooper had a fever last night of 100.7 . I am sure that it doesn't sound high to you all but when he is right hot and you can feel the heat from like 4 inches from him it is worrisome (don't mind me in my jammies here. Definately look terrible and not at my best)But we put a cloth on the back of his neck and on his head and that seemed to help a bit. But he was up a lot last night.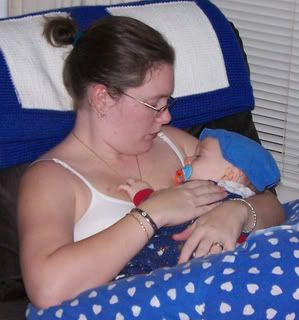 It's so hard when they are this little and can't tell you what is wrong. He is whiney today and won't let me take the soother away. But he is playing so what is one day with the soother. I will "let" it.
All in all this holiday was nice. It felt like Christmas. We think having Cooper is what made it feel more like Christmas then any other year. Phil spoiled me with a new camera. I LOVE IT!! Except my computer is the next one that needs fixing. LOL!!
Oh well, I guess this is just a lot of mummble jumble but also an update. Haven't really blogged much lately. Anyway....hope everyone had a blessed Christmas.