Cooper woke up at 5:50am for a feed. By the time I was done it was 6:20. DH's alarm was to go off at 7. So I decided to have a bath. Had a nice long relaxing bath. Hear the alarm go off so I got out and made Phil's lunch and our breakfast. Just before he was about to go to work he went in to say goodbye to Cooper. Cooper was awake and wanting cuddles so that is what Daddy did.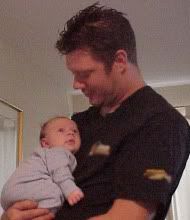 Then after Daddy left for work Cooper and I went for a walk. Just the two of us. It was wonderful. It is a nice cool brisk day and it felt great to get out.
To top it off Cooper is down for a morning nap. The third load of laundry is in the wash. And the second load in the dryer. That's right!! My dryer is fixed. One load is folded and ready to put away. Oh.....I heard the dryer stop. Second load done!
I feel great this morning. So far the day has started off wonderfully. I got smiles and laughs from the little man and now I am getting some laundry done. Just hope the rest of the day goes well. I guess it will if I make it that way. Take it easy. Step by step.
Sigh........I feel good.